Date:
Monday, 11 October, 2021 - 05:20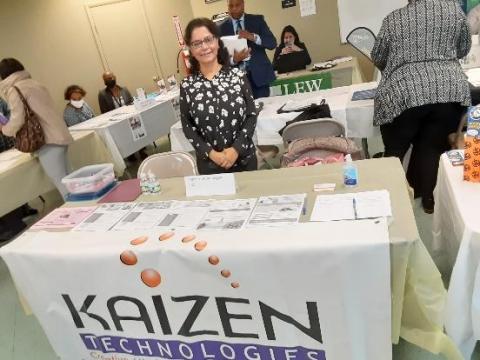 A remarkable job fair/networking event hosted by the Iron bound Community Corporation one of the most remarkable non-profits in Newark. Founded in 1969, Ironbound Community Corporation's (ICC's) mission is to engage and empower individuals, families, and groups in realizing their aspirations and work together to create a just, vibrant, and sustainable community. Had a great opportunity to meet with students and dislocated workers to discuss potential job opportunities specifically for the Opportunity Partnership Training Grant and the Registered Healthcare Youth Apprenticeship grant.
Kaizen recipients of the STATE OF NEW JERSEY DEPARTMENT OF LABOR AND WORKFORCE DEVELOPMENT sponsored Opportunity Partnership Grant training program is designed to support the development of high-quality industry-specific work-based learning, pre-apprenticeship training, or vocational training components that contributes to a high-skilled, high-paid workforce. On APRIL 1, 2021, Kaizen was awarded the Opportunity Partnership Training Grant by the New Jersey Department of Labor to train and place 12 unemployed workers in the healthcare industry primarily for the Certified Medical Administrative Assistant occupation.
In 2019 Kaizen partnered with Net. America a women-owned small business located in Maryland and recipients of the Registered Healthcare Youth Apprenticeship Intermediary grant to initiate and expand apprenticeship in the healthcare sector. While working on this initiative we collaborated with employers, educational institutions, WDBs and CBO/FBO to expand apprenticeships, and in the process partnered with Bergen Community College recipients of the Healthworks Scaling Healthcare Youth Apprenticeship grant and Kaizen was registered as a sponsor. As a sponsor our main objective is to register apprentices and create new programs.